FIND A
NIKOLA DEALER
NEAR YOU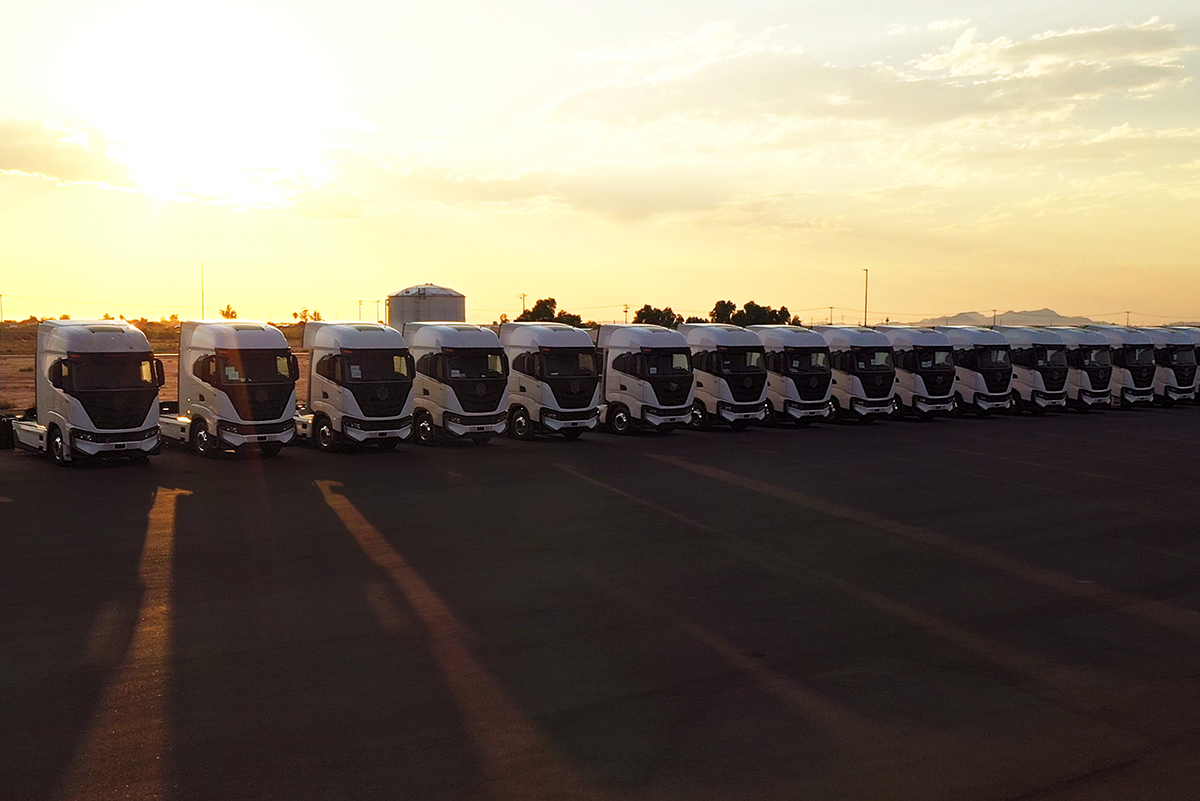 Drive a Nikola Tre® BEV today
at a Dealer Near You
With the Nikola Tre battery electric semi-truck available now, our experienced dealers located throughout the country are equipped with trucks on hand to test drive and purchase.
Contact a dealer near you to learn more about the available government incentives and rebate programs and which charging solution will best support your transition to a zero-emissions fleet.
Lead the charge with the Nikola Tre BEV. Available now.
DEALER LOCATIONS NATIONWIDE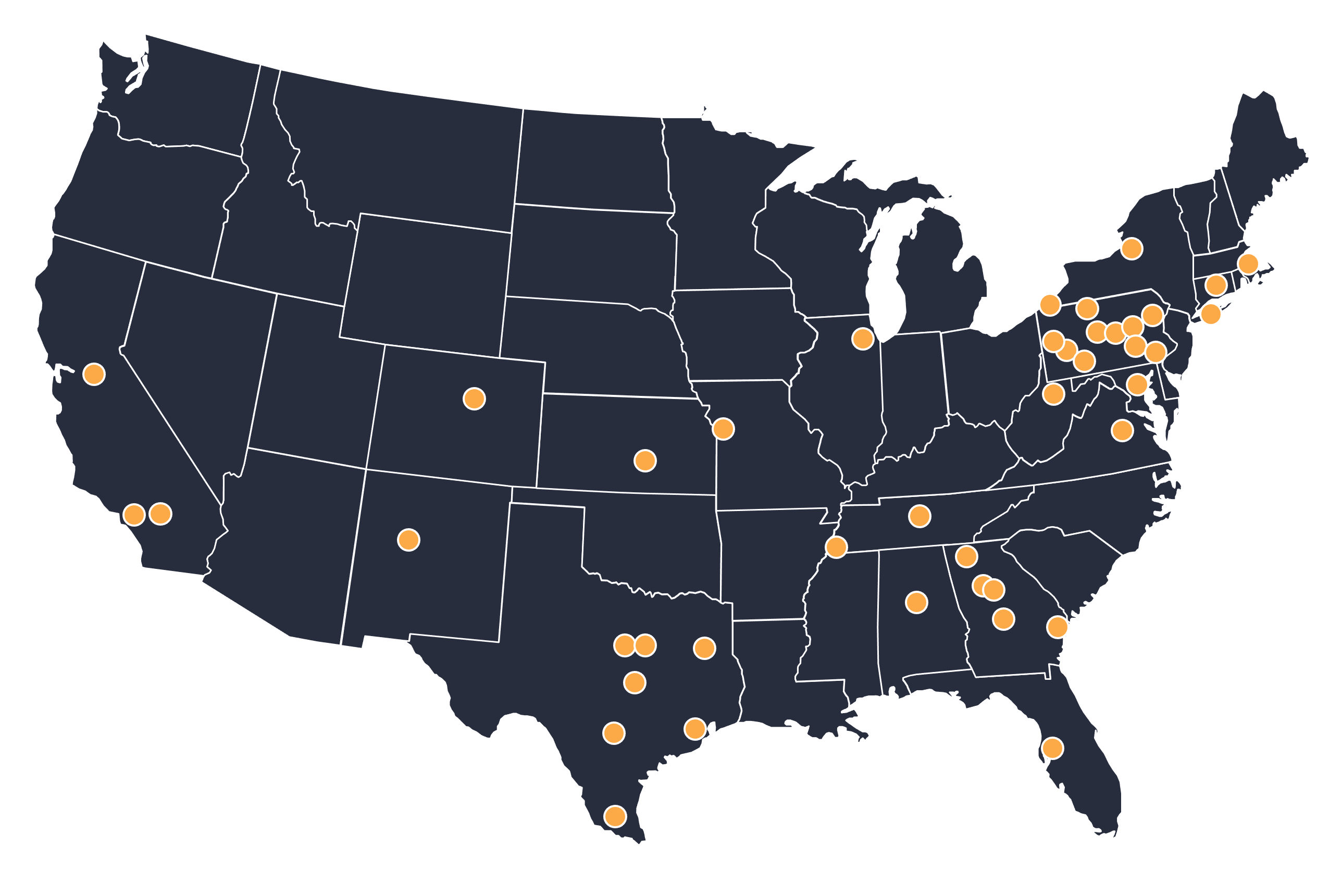 NORTHEAST
EAST

ETHERO
8362 Richfood Rd. Mechanicsville, VA 23116
P: (804) 823-1056
M: (615) 513-3492
E. Dave_Rogers@cartermachinery.com
W: https://ethero.com/

6387 Old Washington Rd. Elkridge, MD 21075
P: (804) 823-1057
M: (615) 513-3493
E. Dave_Rogers@cartermachinery.com
W: https://ethero.com/

Cleveland Brothers
6286 West Veterans Memorial Highway, Bridgeport, WV 26330
P: (304) 842-2222
E: Einsani@clevelandbrothers.com
W: https://www.clevelandbrothers.com/

4326 Oregon Pike, Ephrata, PA 17522
P: (717) 859-4905
E: tgerdes@clevelandbrothers.com
W: https://www.clevelandbrothers.com/

190 Earnhardt Dr. Hunker, PA 15639
P: (724) 861-6080
E: jwright@clevelandbrothers.com
W: https://www.clevelandbrothers.com/

1307 S Second St. Clearfield, PA 16830
P: (814) 765-1611
E: ndavis@clevelandbrothers.com
W: https://www.clevelandbrothers.com/

3105 Route 219, Kane, PA 16735
P: (814) 778-5250
E: wclayson@clevelandbrothers.com
W: https://www.clevelandbrothers.com/

168 Industrial Park Rd. Somerset, PA 15501
P: (814) 445-7915
E: maudi@clevelandbrothers.com
W: https://www.clevelandbrothers.com/

11 Progress Ave. Cranberry Township, PA 1606
P: (724) 776-7660
E: rklavonjr@clevelandbrothers.com
W: https://www.clevelandbrothers.com/

336 Fairville Ave. Harrisburg, PA 17112
P: (717) 526-2121
E: bdillman@clevelandbrothers.com
W: https://www.clevelandbrothers.com/

190 Cleveland Brothers Rd, Watsontown, PA 17777
P: (570) 538-2551
E: jford@clevelandbrothers.com
W: https://www.clevelandbrothers.com/

3950 Depot Rd. Erie, PA 16510
P: (814) 898-3388
E: gpulvino@clevelandbrothers.com
W: https://www.clevelandbrothers.com/

1025 North Eagle Valley Rd. Howard, PA 16841
P: (814) 355-3500
E: dcoval@clevelandbrothers.com
W: https://www.clevelandbrothers.com/

441 Route 315 Hwy. Pittston Twp, PA 18640
P: (570) 891-1640
E: jgroboski@clevelandbrothers.com
W: https://www.clevelandbrothers.com/
MIDWEST

ALTA
1049 Lily Cache Ln, Bolingbrook, IL 60440
P: (855)258-4662
E. emobility@altg.com
W: https://emobility.altg.com/

13211 Merriman Rd, Livonia, MI 48150
P: (855) 258-4662
E. emobility@altg.com
W: https://emobility.altg.com/

FOLEY RIG360 TRUCK CENTER
5701 E. 87th St. Kansas City, MO 64132
P: (816) 753-5300
E: newtrucks@foleyrig360.com
W: https://FoleyRIG360.com

1550 S. West St. Wichita, KS 67213
P: (316) 943-4211, Ext. 1830
E: newtrucks@foleyrig360.com
W: https://FoleyRIG360.com

ZIEGLER TRUCK GROUP
18151 Territorial RD. Maple Grove, MN 55369
P: (612) 254-0260
T: (877) 314-9145
E: sales@zieglertruck.com
W: www.zieglertruck.com

1500 Ziegler DR NW, STE 101
Altoona, IA 50009
P: (515) 207-3790
T: (877) 311-8911
E: sales@zieglertruck.com
W: www.zieglertruck.com
SOUTHWEST
SOUTH

HOLT
1320 S. 25th Avenue, Edinburg, TX 78542
P: (726) 216-7667
M: (817)217-8267
E. cary.gniffke@holttruckcenters.com
W: https://www.holttruckcenters.com/new-products/nikola/

549 W. Loop 820 North, Fort Worth, Texas, 76108
P: (726) 216-7667
M: (817) 217-8267
E: cary.gniffke@holttruckcenters.com
W: https://www.holttruckcenters.com/new-products/nikola/


415 N. Walton Walker Blvd. (Loop 12), Irving, TX 75061
P: (726) 216-7667
M: (817) 217-8268
E: cary.gniffke@holttruckcenters.com
W: https://www.holttruckcenters.com/new-products/nikola/


5036 W. Loop 281, Longview, TX 75603
P: (726) 216-7667
M: (817) 217-8268
E: cary.gniffke@holttruckcenters.com
W: https://www.holttruckcenters.com/new-products/nikola/


5665 Southeast Loop 410, Building 102, San Antonio, TX 78222
P: (726) 216-7667
M: (817) 217-8268
E: cary.gniffke@holttruckcenters.com
W: https://www.holttruckcenters.com/new-products/nikola/


3200, I-35, Waco, TX 76706
P: (726) 216-7667
M: (817) 217-8268
E: cary.gniffke@holttruckcenters.com
W: https://www.holttruckcenters.com/new-products/nikola/


7010 North Loop East Freeway, Houston, TX, USA
P: (726) 216-7667
M: (817) 217-8268
E: cary.gniffke@holttruckcenters.com
W: https://www.holttruckcenters.com/new-products/nikola/


Thompson Truck Center
1255 Bridgestone Pkwy, La Vergne, TN 37086
P: (888)-715-1216
W: https://thompsontc.com/nikola/

1653 E Brooks Rd, Memphis, TN 38116
P: (888)-715-1216
W: https://thompsontc.com/nikola/

Thompson Truck Source
2070 Corporate Woods Dr, Alabaster, AL 35007
P: 205-664-4833
E: marketing@thompsontractor.com
W: http://www.thompsontrucksource.com/

Yancey Power
259 Lee Industrial Blvd, Austell GA 30168
P: (770) 941-2424
E: info@yanceybros.com
W: https://www.yanceybros.com/stores/yancey-power-systems-austell-ga/

1244 Mason Dixon Ln, Conley, GA 30288
P: (404) 361-2424
E: info@yanceybros.com
W: https://www.yanceybros.com/stores/yancey-power-systems-atlanta/

1025 Frank Amerson Pkwy, Macon, GA 31216
P: (478) 788-1773
E: info@yanceybros.com
W: https://www.yanceybros.com/stores/yancey-bros-macon-ga/

1459 US 80 East, Pooler, GA 31322
P: (912) 525-1225
E: info@yanceybros.com
W: https://www.yanceybros.com/stores/yancey-power-systems/

133 Resaca Beach Blvd NW, Resaca, GA 30735
P: (706) 602-7156
E: info@yanceybros.com
W: https://www.yanceybros.com/stores/yancey-power-systems-resaca-ga/

ALTA
8418 Palm River Rd, Tampa, FL 33619
P: (855)258-4662
E: emobility@altg.com
W: https://emobility.altg.com/